WEB DESIGN & DEVELOPMENT AGENCY MELBOURNE
The attention span of your potential customer on the web is getting shorter and shorter all the time in fact you have about 6 seconds to catch their attention before they click out. This means that your website has to be engaging and compelling from the get-go: from that first second or two that they land on your home page.
Responsive Web
Design Specialists
The mobile revolution means that your website has to work seamlessly across all…
Devices including desktop, laptop, mobile and tablets like the iPad
Operating systems such as OSX and Android and more
Screen sizes from small mobile screens right though to 27" widescreens
A responsively designed website essentially future-proofs your digital presence across all platforms, browsers and devices. This means that no matter what device your customers are using to view your website they'll have a positive and engaging user experience.
Website Design
and Development
Best of breed website design and development is what we live and breathe. Every. Single. Day.
Style Guide ensures that your branding is consistent across all mediums – print and digital, online and offline. We'll create an easy-to-follow Style Guide with clear directions and guidelines to ensure brand consistency so that to ensure your brand's story is told in a compelling way. Every. Single. Time.
We implement industry-leading content management system (CMS) platforms such as WordPress, JOOMLA, Opencart, and Shopify to develop user-friendly websites that can be managed easily, by you, without any need for rocket science. We also have a wide scope of experience with custom-developed applications, as well as open source solutions.
We can also integrate and integration of accounting and inventory software such as MYOB or , XERO to help you reduce administration and bookkeeping costs.
Digital Strategy: Wireframes,
User Experience (UX) & Information
Architecture
Ever wonder why some products, websites and apps are really successful and others are not? The secret is in the user experience (UX).
If you make the user experience a breeze for your website visitors they'll stay and buy your product or service. That's why we use effective usability tactics to ensure that your website is logical and easy to use without compromising the cutting edge creative design.
Our meticulous planning and well thought-out information architecture results in an wireframe that is essentially your website blueprint. The in-depth planning process ensures that your website works to target a specific audience and most critically to convert your website visitors to an enquiry or sale.
eCommerce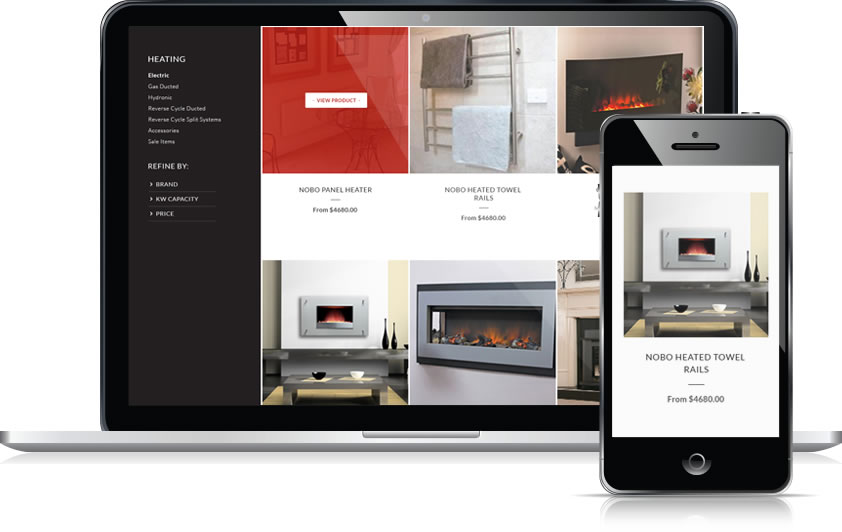 We'll help you to create a visually compelling, easy-to-manage online store that not only attracts visitors, but converts visitors into sales.
We have partnered with the leaders in eCommerce solutions and use robust platforms such as OpenCart, Magento, Shopify and WordPress depending on your business requirements. We can assist with automatic solutions feeding your ecommerce site into POS systems like CIN7, accounting softwares such as XERO & MYOB to create a streamlined easy to manage systems.
Capabilities
We can assist with the following web design, digital and print services
close